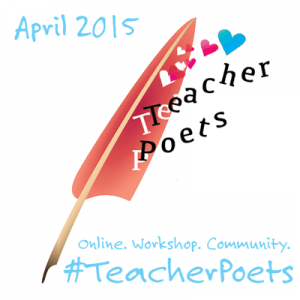 Happy April! Happy #TeacherPoets!
Saturdays ◆ 11-Noon Est ◆ April 11, 18, 25
#TeacherPoets is a free, online community/course/experience/cheering-crowd-of-enthusiasm that is joining together for four weeks this month to write, reflect and rejuvenate.
We meet in a live-streaming, creative writing workshop over Saturdays in April. Anyone tuning in can interact using #TeacherPoets on twitter and by visiting our Google+ Page.
Two Ways to Join!
Viewing and Tweeting: 

Attend our sessions by following along on this page for updates of poems of the week and links to the live stream. Tweet feedback during the sessions, using #TeacherPoets. Interact on our Google+ Page.

JOIN THE NEW 2015 LIVE COHORT!

YES YOU! Apply at TheEducatorCollaborative.com/TeacherPoets

But act quickly, it is only available through April 6th!

Join virtually, from a wired ethernet connection, and interact over your camera and mic with Christopher Lehman, members of the new cohort (and perhaps a special guest).
Should you apply?  YES!
Really? YES!
I loved working with the 2014 cohort, and it feels like we're all family! I'm looking forward to working with you this year!
Archived Session from the 2014 #TeacherPoets Cohort