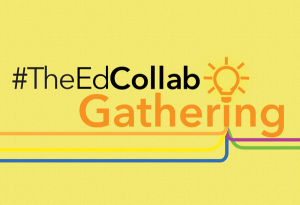 Tomorrow! Saturday, April 25th!
This is one of my favorite events that we put on at The Educator Collaborative.  This Spring #TheEdCollabGathering should prove to be another great one.
The day is totally free, no registration required, come and go as you please.  And, every session is archived!
If you join live, you can tweet along with sessions and interact with the presenters.
Event Site
A day of learning + in your

pajamas
(for free!)
 A day of online workshops, twitter conversations and edu-joy!
Spring Gathering: April 25, 2015
9:45AM-4PM EST
Online. No Registration. Just join the fun!
Mark your calendars: Fall Gathering: September 19, 2015
❀

Spring Gathering Theme:

❁
Connecting and Collaborating
Sessions on how educators learn from,
rely on, and are inspired by each other.
Opening Session:
Live-streaming Twitter Chat
Edu-Inspiration: Who Influences Your Thinking?
with
Christopher Lehman
Kristin Ziemke
Heather Rocco
and you tweeting along with us!
Day time sessions include:
Kathy Collins and Matt Glover, beloved early childhood authors and educators, Kathy and Matt are co-authors of the new book, 

I Am Reading: 

Nuturing Young Children's Meaning Making and Joyful Engagement with Any Book
Mary Cappellini and Emily DeLiddo, ELL instructional experts, Mary is celebrating the 10-year anniversary of her influential title, Balancing Reading and Language Learning, and Emily is writing the special anniversary's study guide.
Dana Stachowiak on culturally responsive teaching practices
Katharine Hale and 5th Grade Buddies on using iTunesU to support classroom learners and leaders
Chris Bronke, Kristen Bronke, Brooke Perry and
Lisa Hollenbach of the National Blogging Collaborative on blogging to amplify and empower teacher voices
Marissa Moss, Children's Book Author, and JoEllen McCarthy, The Educator Collaborative Book Ambassador, on the process of a writer
Roz Linder on approaching test-like writing with fun and energy (and not losing sight of what matters most)
Kristin Ziemke and Chad Everett on connecting readers through books and beyond
Christopher Lehman and #TeacherPoets in their final session of the season
Heather Rocco, Tony Sinanis, Janice Schwarze, and John Fritzky, education leaders, on tackling leadership challenges and leading with joy
Laura Fleming on digital badging to micro-credential teacher learning
Closing Session:
Discovering Students' Voices Through Music, Writing and Technology: Speak With Them, Then Let Them Speak (K-12)
Mike Sal, the founder and CEO of boutique record label Land of ADM (www.LandofADM.com). Mike is a songwriter, engineer and producer based in Atlanta who has worked alongside artists such as Drake, Parliament Funkadelic and J.Geils band.  For years, he has taught digital music courses and spoken at local colleges and art centers, more recently, Mike's music education consulting work has expanded to weave deeper into elementary schools around the world where he has helped schools enrich music experiences for students.

Watch the Fall 2014 archived sessions, anytime at YouTube.com/TheEdCollab!
Information on our next #TheEdCollabGathering will be shared with our mailing list.  Sign-up to stay in the know! 
Event Site