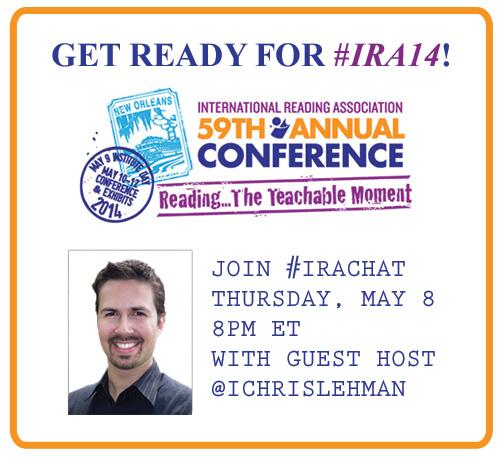 I am excited to guest host the International Reading Association's twitter chat #IRAchat, this Thursday, May 8, at 8pm EST (7 pm CST).
We are gearing up for the 59th Annual IRA Conference this weekend in New Orleans!  I love the city, the conference and most of all connecting with educators from around the world.
IRA officers and other friends will join our chat–and I hope you will as well. The chat is open to anyone, whether you are attending the conference, following from afar, a New Orleans travel buff, or just have a passion for education.
Let's Chat
If you are new to twitter chats, you can check out my post So You Think You Want to Tweet Chat: From Lurker to Chatter 101.
If you are like me, you find these huge conferences exciting and totally overwhelming! We're hoping in this one hour chat you will grab some attendance tips, travel spots to check out while in town, and start your list of sessions to attend.
Thursday will follow a Q1, A1 format and I will break it into main sections:
Attending Tips (both sharing and asking for ideas about the conference and New Orleans),
Social Media (sharing tips on using it during the conference and who to follow),
and Sessions! (sharing topics and promoting your own sessions).
Here's the link to draft questions. Please tweet me with any other question suggestions.
See you online!