I spent all day Tuesday volunteering in the Rockaways of Queens, NY, one of the hardest hit areas of Hurricane Sandy.  It was eye opening. Powerful, depressing, inspiring, heart-breaking kind of eye opening.
Our volunteer buses from NYC's City Hall arrived at St. Francis De Sales Church, one of the make-shift emergency response centers organized on the peninsula. First, we were given a safety briefing by an onsite job captain.  He was a man originally from the area, a doctor who had moved to New Orleans and after Katrina became a search and rescue specialist. Once Sandy hit he returned to Queens knowing he would be needed "back at home." He then said this, the line that best summarizes the current situation not just in the Rockaways, but I imagine all over the storm's most devastated areas:
"Donations have been great. 
But right now we don't need things, right now we need more hands. Thank you for being more hands today."
He could not have been more correct. Our team of volunteers, organized by NYC Service and New York Cares, broke into small groups.  My group of 6 strong, caring fellow-New Yorkers worked the entire day helping families clean out their homes. With no electricity, we helped pull apart, bag, and add to the already large pile at the curb–bag after bag of what once were pieces of lives.
We worked all day, late into the afternoon. Nonstop. Yet the 6 of us only helped three homes. Only did what we could in what felt like a microscopic amount of time compared to all that needed to be done. They were only 3 homes out of the hundreds in this one area.  Out of the thousands in need across our area.
The bright spot is that on election day NY Cares brought something like 500 people to affect areas to help.  Yet, "We need more hands" is exactly right. I plan to go back, I hope you will if you can as well.  There will be need for hands for months and months to come, so if you can't make it to the Jersey Shore or Long Island or Staten Island or the Rockaway or anywhere else tomorrow or even next month, there is plenty of time.
What to Expect When You Help
From yourself: sadness, shock, warmth and hope.
The same goes for the people you will encounter.
You will notice the green, yellow, or red city "inspection" stickers placed on the fronts of homes.  Indicating if
they are habitable. You will see streets covered with sand, as if the beach were everywhere – because it is. You will be surprised to see not only the water damage, but the houses decimated by what many in the area believe to be electrical fires. You will see concrete sidewalks torn apart by the ocean, and beach front homes that look like ripped open doll houses. You will notice there are no working lights, no street lights, a eerie silence aside from the random generators.  As night falls, you will notice the presence of the NYPD and National Guard increase, keeping the neighborhood as safe as they can.
You will also meet people you will never forget.
One couple we met have lived in their home for 38 years.  They evacuated when asked and stayed with their son out of state.  Upon return, the husband said, it looked as if their basement and ground floor "had been in a typhoon."  His wife explained,  "you see this area is a peninsula. The bay is to the north, the ocean is to the south. When the hurricane hit both sides breeched their sea walls and met in the middle. Right here in our homes. People that stayed said it was like a freight train."  As the storm surge flooded the streets it broke windows, rushed into basements and first floors, and just "mixed everything up. Like a giant blender." We spent several hours with them, removing bags, bookshelves, scrubbing salvageable items, and just talking. "How are you?" felt the most important question of the day.
In another house lived an artist and his wife, they had lived there for 40 years. His basement and garage were his storage for his art supplies and his many painted canvases – his passion and his livelihood. When Irene hit they made a few adjustments, made sure things were stored up high, they expected some flooding then and did so again. No one expected this.
Nearly everything was destroyed.
One of the last tasks of the day at their home was helping him go through empty frames, throwing out those that were too damaged to keep. The bright side is we were able to save quite a few. But at one moment he was handing off another frame, "trash," then looked up at the remaining ones and said to me, "So many frames, I just don't know that I'll live long enough to fill them all up again."
The front of their home, like those of nearly every house on the street, was a growing wall of memories stuffed into large, black plastic, contractor bags. Yet they continued to ask us if we needed anything, "water at least?"
The Need Will Be Great for a Long Time, And You Can Help
Just as we were preparing to leave that home some more inspectors came by.  The owners told us the official word from them was, "we won't get electricity or gas for at least three months. They need to go home by home once they are ready to turn things on. If one house is not up to code, we all wait."  Three months. That's February.
The best thing to do, if you are able, is to come help. Consider signing up with a volunteer organization – there are many, many, many. NYC Service has an on-going list of opportunities, click the logo.
New York Cares is organizing many volunteer events into the hardest hit areas. Click the logo to go to their website to sign-up.
Whatever your politics, the Occupy Wall Street movement in NYC has become a major resource for individuals looking to volunteer – creating and updating their social media for up to the minute needs and ways to help. Click the logo to go to their updated page or follow them on their aptly named @OccupySandy twitter handle.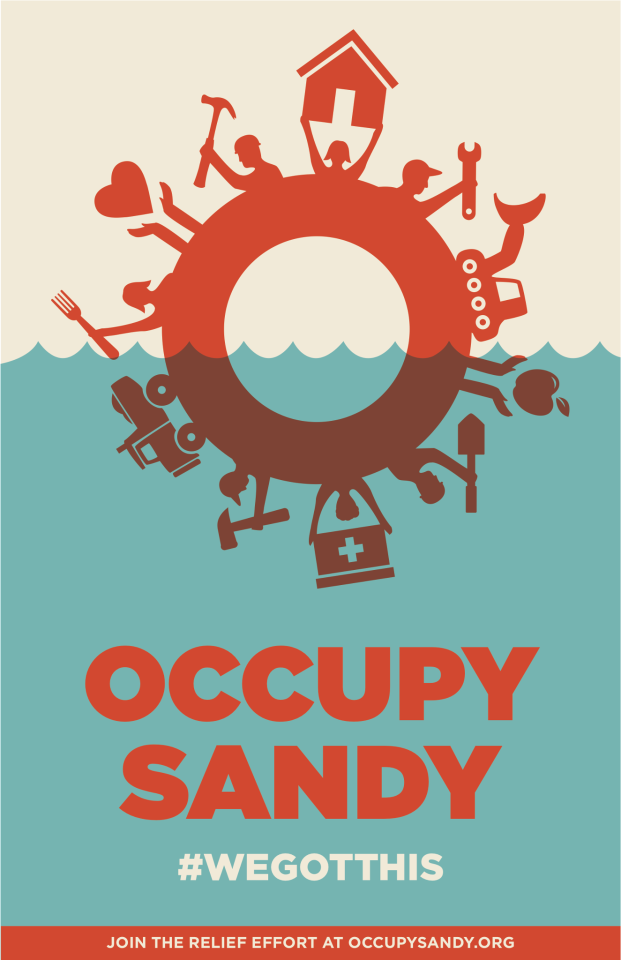 I am most familiar with my home, New York City. But please do link readers to organization in other affected areas, or your own blog posts with links, for others who have been affected by leaving a comment at this post.  The need is great and "we need more hands."
Tips: What I Wish I Knew (Or Guess-Lucked Into Having)
The days you volunteer:
Assume you will get dirty, very dirty.  Where clothing you don't mind getting ruined
Heavy boots
Multiple layers – both for temperature and your treck home can be in the cleaner of layers
Check-in at a volunteer center if at all possible, they can give you proper supplies (if they have them) and an essential safety briefing
Travel in a group
Plan to leave as the sun begins to set.  The National Guard and NYPD and others are very busy patrolling and trying to keep everyone safe, do not add to their numbers of people that need to be looked after.
Plan that you could be doing anything.  But as we were told by everyone, "it's okay to say no if you really can't do something or don't feel safe doing it."  Or better as one homeowner reminded me when I forgot to put a mask on, "we don't need martyrs. We want help, but stay alive."
Plan that you may need mass transportation (or volunteer organized busing).  Some areas are recently open to cars.
**Plan to turn your cell phone off! (I learned the hard way) With no cell service my phone ran and ran and drained the battery.  Tell people where you are going and that you may be out of service and when to expect you.  Then put your phone in "airplane" mode if you are not getting a signal.
NY Cares gave out name tags.  They proved to be really helpful all day long, and more personable.  If you do not go with a volunteer organization it's a good idea to bring some of your own.
Many homeowners or volunteer sites have, but if you can do it easily it is probably good to bring:
Flashlight, or better yet a flashlight "lantern" that lights up a wide area
Extra work gloves – you will get dirty and need to avoid nails, splinters
Extra face masks
Pocketable snacks in wrappers – bars, pop tarts even – if you can't wash your hands then eat out of a wrapper
Luckily there is a lot of bottled water in most sites, but you could bring your own filled bottles
If you are bringing donations with you – most sites no longer need clothes.  Expect there is a very big need for WARM winter gear, blankets, coats, hats, gloves.  Most areas have no heat.  Nonperishable food items are always helpful.
If you can, lend your hands.  If you cannot, give to those who can.
*some photos in this post are courtesy of Linda Feingold, a fellow volunteer who shared her photos with our group after my phone battery ran out.